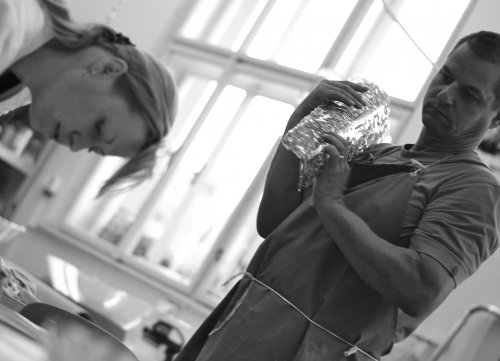 The studio is engaged in the design and manufacture of glass accessories for interiors. Visitors can purchase an exclusive, unique and personalized gift for themselves or friends, personally meet authors and creators in a friendly and informal environment, and learn about the fascinating story of glass art.The main focus of the work is decorative bowls, vases and candlesticks, but also custom design and production of glass panels for windows, doors and furniture, partition walls, original lighting fixtures, stained glass and glass frames for mirrors.
The Glass Studio is located on the premises of the former inn and farmhouse in Málkov, which is gradually adapted to the needs of the studio. The studio can be visited every day. The possibility of visiting during the weekend days can be verified by telephone in advance.
The creation of the studio is characterized by contemporary modern style and precise handicrafts. WAGA is the founder of the modern tradition of glass art in the region and his work ranks it among the leading workshops in the field of arts and crafts.